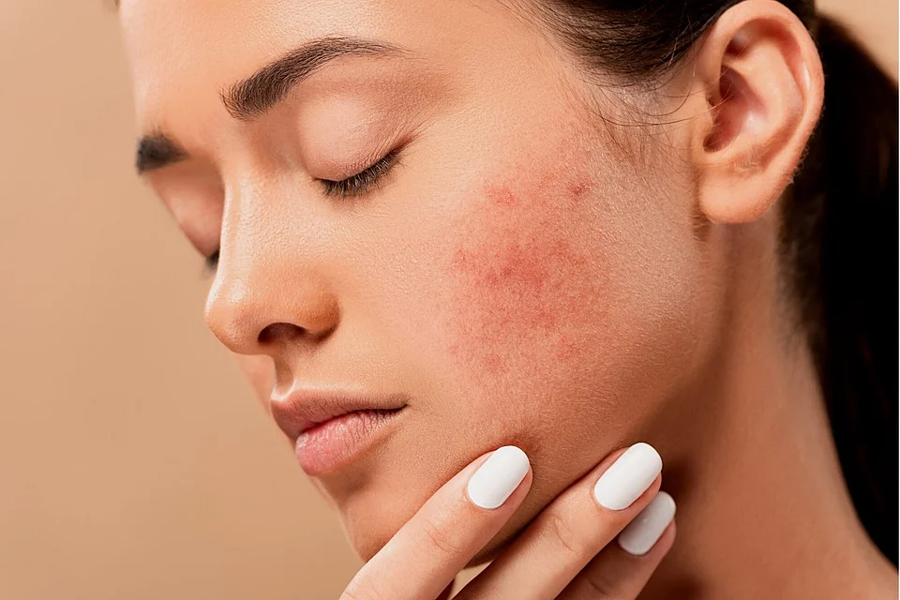 Skin problems plague at least 1 in 4 Americans, according to a report published by the American Academy of Dermatology, Inc in 2017. It's a health problem that costs us around $75 billion per year and $11 billion of indirect opportunity loss. As a physician assistant working in the field of dermatology, our founder Jasmine Khachatrian has seen a large variety of skin problems first-hand, along with the expensive and invasive treatments that are often recommended. In the course of her work, she began to explore the potential for CBD and skincare as a holistic alternative to many of the harsh creams that are prescribed for common skin conditions. Join us as we explain the benefits of CBD in skincare and introduce our topical CBD products.
How CBD and Skincare are Linked
Cannabidiol—or CBD—has such a powerful effect on every part of our bodies because we seem to have been designed to receive it. From the brain and nervous system to our organs and skin cells, our bodies are mapped out with an intricate network of receptors that respond specifically to cannabinoids—referred to as the endocannabinoid system or ECS for short.
Within this network, we have CB1 receptors that are primarily located in the central nervous system, digestive organs, and skeletal muscle, and CB2 receptors that are mostly found in the immune cells, neurons, and throughout the peripheral tissues. When we're talking about CBD and skincare, we are talking about both types as both CB1 and CB2 are found connecting CBD and the skin.
CBD and Skincare: Maintaining Homeostasis
Rather than give us a near-immediate sensory and psychological sensation like THC, CBD works gently to regulate and balance the functions that our body naturally performs. In the skin, this means reducing excess inflammation, calming neuropathic pain, and helping to prevent the growth of malignant skin cells. While the interaction between CBD and the skin might take a few days to witness physically, there are no serious toxic side-effects. In fact, you may notice additional side-benefits like reduced muscle pain and a greater sense of calm!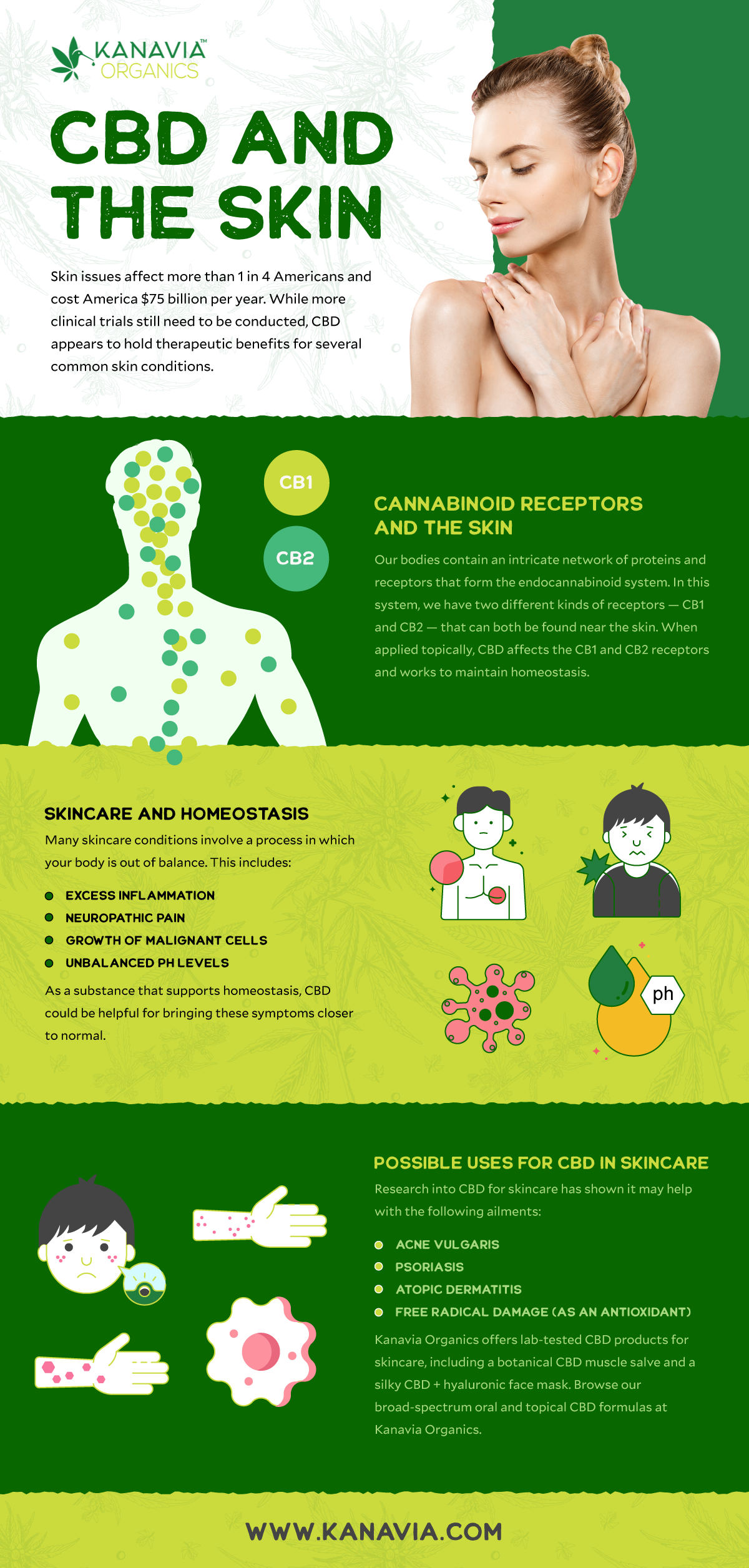 Proven Uses for CBD in Skincare
The field of CBD and skincare is one that's relatively new and one that we hope to see advance with new treatments in the future. So far, clinical trials and anecdotal reports, and case studies indicate that CBD offers clear benefits for the following conditions:
Acne Vulgaris
Acne vulgaris is the most common skin condition worldwide, characterized by the overproduction of oil (sebum), inflammation, redness, and infection. This condition doesn't just affect teenagers—breakouts can occur due to hormonal changes throughout adulthood, as well.
In 2014, a study was conducted in vitro, applying CBD to human sebocytes (sebum-producing cells) and documenting the results. What they found is that the CBD curbed an overproduction of sebum and prevented inflammatory cytokines from flaring up. This dual-action effect indicates that CBD could be a promising topical treatment for acne, although human trials are still needed.
Psoriasis and Atopic Dermatitis (Eczema)
Two of the other most common skin diseases in the world are psoriasis—characterized by red, scaly skin— and atopic dermatitis or eczema—characterized by dry, itchy skin. These conditions are frequently treated with corticosteroids if the symptoms have become severe.
In a spontaneous, anecdotal, retrospective study on CBD and skincare, patients suffering from psoriasis or atopic dermatitis were given a CBD-infused lotion to apply twice per day for a period of three months. The researchers found that the use of this CBD lotion reduced inflammation, improved the appearance of scars, and boosted the participants' quality of life.
Antioxidant Properties
The third major use for CBD in skincare is to rejuvenate and refresh the pores in people with otherwise healthy skin. Similar to vitamins C and E, CBD functions as an antioxidant—preventing free radical damage and boosting collagen production for more elastic and responsive skin. While there haven't been any anti-aging trials using CBD specifically, many people choose CBD for their skincare routine as a naturally-derived, non-toxic, beneficial skincare ingredient.
CBD and Skincare at Kanavia
If you'd like to explore the relationship between CBD and the skin for yourself, Kanavia Organics offers three CBD skincare products that are lab-tested and free from heavy metals and pesticides.
CBD Muscle Balm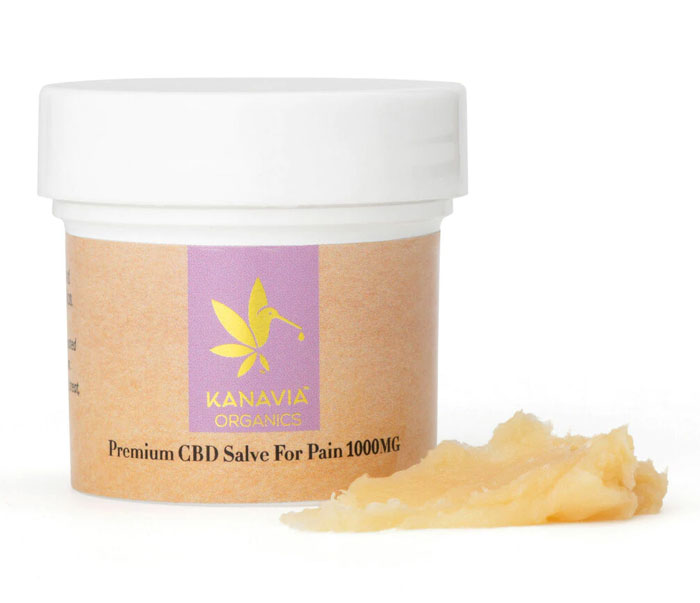 Our CBD muscle balm is designed not only to nourish your skin but goes deeper to relax your muscles and refresh the senses. A unique combination of phytocannabinoid-rich hemp extract with organic lavender and eucalyptus essential oils works in synergy to reduce inflammation and provide relief. Many of our customers claim that this balm works for their migraines, arthritis, and muscle aches when other products have not been effective.
CBD Face Mask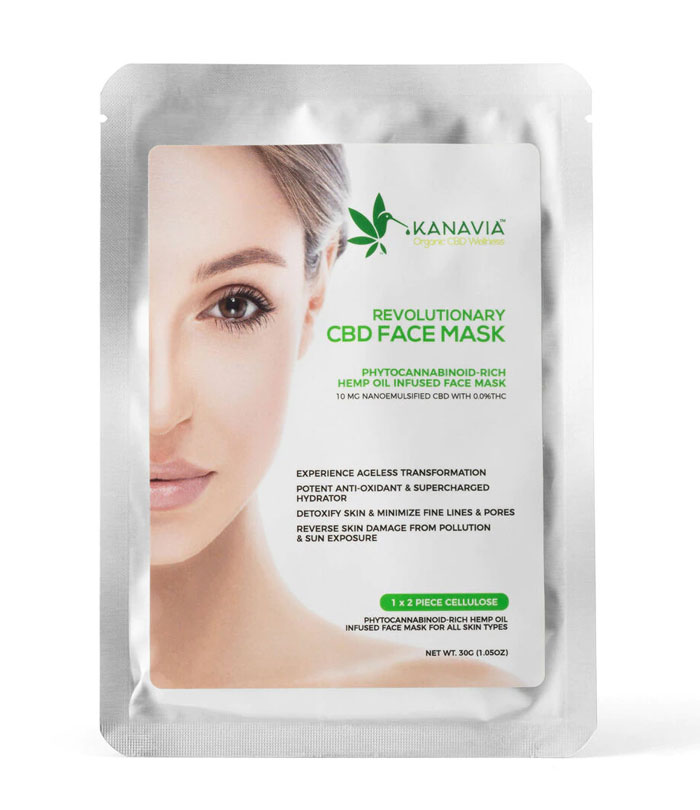 We've made CBD and skincare even more convenient and luxurious with our CBD oil + hyaluronic face mask. This mask is a silky-soft Tencel™ towelette infused with nano emulsified CBD oil, sodium hyaluronate, and an exotic blend of botanical extracts that work to calm, refresh, and smooth the skin. People who have used this fragrant mask have commented that their skin feels like silk after rubbing in the ingredients overnight!
Natural Flavor CBD Oil
Sometimes, all you need to test the relationship between CBD and the skin is a drop of premium CBD oil. This is especially true for topical skin conditions on sensitive areas like your face and elbows. Enjoy the benefits of CBD and skincare in its purest, non-fragrant form with our natural flavored CBD oil by using the product on its own or mixing it into your regular skincare products.
Discover a New Level of CBD in Skincare at Kanavia Organics
There are a lot of CBD and skincare products out there, but Kanavia Organics stands in a class of its own when it comes to quality, purity, and enhanced bioavailability. Starting with medicinal-grade hemp that's grown organically right here in America, we use a clean, supercritical CO2 extraction system that leaves all of the terpenes, cannabinoids, flavonoids, and lipids intact. We then remove only the THC—leaving a phytocannabinoid-rich extract that is easily absorbed into the bloodstream. To round out our exquisite formulas, we add MCT oil, essential oils, and other non-toxic, high-quality ingredients to create a line of products that have been said to provide real, lasting relief.
Are you ready to try an approach to CBD and skincare that could change your life? Select your favorite products here and enjoy a complimentary CBD face mask.